A concrete anti-tank wall knocked down on the beach
Following the last strong winds that struck Normandy, the overturned portion of the anti-tank wall located at Utah Beach between the Landing Museum and the red-roofed chalet is once again appreciable in its entirety. Indeed, this element being covered with sand most of the days of the year, it is difficult to attend this show regularly and it's also more rare for tourists who come only for some days a year. This is an excellent excuse to go for a walk in the next few days.
A part of the greatest Atlantic Wall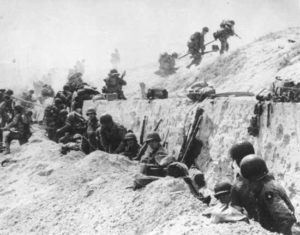 It was installed by German soldiers, civilians and members of the Todt Organization, a civil and military engineering group engaged in the construction of the buildings on the Atlantic Wall. This Atlantic wall was used to push a possible allied landing into the sea and this 1,50-meter high wall was an additional element of defense. Between the different support points (WN and Stp) of the site including blockhouses or even networks of mines and barbed wire, it aims to prevent the crossing of the dune by tanks or vehicles. Thus, a new task will be added to the men of the allied engineering corps during the Overlord mission, that of breaking down these concrete walls and allowing the crossing of the dunes.